Himachal Pradesh is one of the top destinations in the lap of Himalaya, north India. Himachal Pradesh consists of a large number of tourist attractions. These places are very beautiful and attract thousands of tourists from all around the world.

It is one of the well known destinations not in India but also outside India tourists come to visit.

Himachal is also called as land of God because of the large number of temples.

Himachal Pradesh is also an adventurous place because visitors can explore various activities such as paragliding, skiing, trekking and snow skating.

The main Tourist Places of Himachal Pradesh are: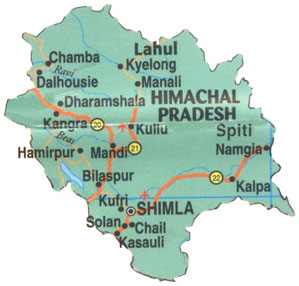 Shimla :-
Shimla is the maximum time soughed tourists attraction in Himachal Pradesh for spending their holiday and vacation. It is honeymooners' paradise. The main attraction those attract the tourist is Mall Road, Kali Bari Temple, Summer Hill, Shimla Ridge or Christ Church and many other.

Kufri :-
Kufri is also one of the leading travel destinations in Himachal Pradesh. If you want to spend some adventure in the coming vacation or holiday then you are at right place. Place is mainly famous for hill station just 16 Kms from Shimla. Many people visit every year this amazing and joyful place and enjoy more. This place is well connected through road, air as well rail.

Naldhera - Mashobra :- Naldehra is the oldest golf course in India. Naldehra is located at a distance of 22 kilometers from Shimla. The golf course of Naldehra is situated at a height of 2044 meters above sea level. Mashobra is also popular as a tourist destination. Mashobra is part of Shimla Reserve Forest sanctuary and catchment area. One of the greatest places to visit at Mashobra in Himachal Pradesh is the Goddess Durga temple.

Kullu - Manikaran :--
Kullu is additionally one in all the eyes catching attraction those attract the individuals toward it. This place is principally famed for its Hindu deity Davtas. the most attraction in encompassing of Kullu is Raghunath temple, Bijli Mahadev temple and varied life sanctuaries etc. Manikaran is located in the parvati valley between the rivers Beas and Parvati. It is at an altitude of 1760 m and is located about 35 km from Kullu. Manikaran is a pilgrimage centre for Hindus and Sikhs. Manikaran Gurudwara is very famous and its attract to the Pilgrim tourist. Kullu is very famous for Adventure activities like River rafting, Rock climbing, River crossing etc.

Manali :- Manali is one in all the howling hill stations not India solely moreover of the globe. This place is placed within the Himachal Pradesh. This place is known for its hills and vale everywhere the globe. large numbers of individuals and traveller area unit return from to their per annum. the globe famed temple Hadimba temple is additionally situated in Manali. each Kullu and Manali area unit superb destinations of journey also as mountain lovers. Manali's Visited Places are Hadimba Devi Temple, Manu Temple, Shiva Temple, Vashist Village, Club House, Monasteries and very famous Mall road of Manali attract to the tourist. Manali is very famous for Honeymoon tourists.

Rohtang Pass / Snow Point :- Rohtang Pass is 55Kms from Manali on the national highway (NH 21 ) Kullu Manali via Keylong to Leh. Rohtang Pass is very famous for Adventure activities Paragliding, Rock Climbing, Skking, Motor bikes etc. Its offers a panorama and spectacular mountain view. Rohtang Pass is open from June to November.

Solang Valley :- Solang valley is 14kms. away from Manali. Sollang valley is very famous for Paragliding. When Rohtang Pass is closed then only Sollang valley provide the all adventure activities Paragliding, motor bikes, ski etc.

Dharamshala - Mcleodganj :-
Dharamshala is one of the beautiful attractions of Himachal Pradesh stands at the foot of the Dhauladhar range. It is popularly known as the 'Queen of the Hill and headquarter of the Kangra district. It is about 17 kms north- east of Kangra town. This place is mainly famous for its beautiful tea gardens and beautiful hills. The snow line is perhaps more easily reachable at Dharamsala than any other hill station in India. It is also popular for having the highest cricket stadium and golf course in India. The main attraction nearby Dharamsala is McLeod Ganj and Bhagsunag Falls, Crickets stadium, war memorial, dal laek etc .

Dalhousie :-
Dalhousie is a quiet hill station with little night life, Dalhousie is s hill station in northern state of Himachal Pradesh.The Dalhousie Town was named after Lord Dalhousie who was the British Governor-General in India while establishing this place as a summer retreat. Dalhousie is a gateway to the ancient Chamba Hill State, now Chamba District. Dalhousie hill region is a repository of ancient Hindu culture, art, temples, and handicrafts preserved under the longest-running single dynasty.

Chamba :- -
Chamba is founded by King Sahail Verma in 920 A.D.Chamba is an ancient Pahari capital. It is on the south bank of river Ravi located at a height of 956 meters. The beautiful Dhauladhar range, the Pir Panjal or Pangi and Zanskar range exists in Chamba. Each year in the month of July a famous Minjar Fair that is held each year in the month of July. Some other attraction those attract the peoples toward it that is Kailash Mnimahesh, Bhuri Singh Museum, Temples, Chamab Chaugan. The high cultured society is the attractive thing about Chamba. And last but not least I am only say Chamba is one of the most visiting places in Himachal Pradesh.

Khajjiar :- -
Khajjiar is a hill station in Chamba just 23Kms. from Dalhousie. Khajjiar is known as mini Switzerland of India. Khajjiar Lake is a small lake, surrounded by saucer-shaped lush green meadow and a floating island.